•

 Martial law imposed and curfew declared across country
• Action taken to 'reinstate constitutional order, human rights and freedoms', say armed forces
• President Recep Tayyip Erdoğan insists: 'We will overcome this'
 Updated 26s ago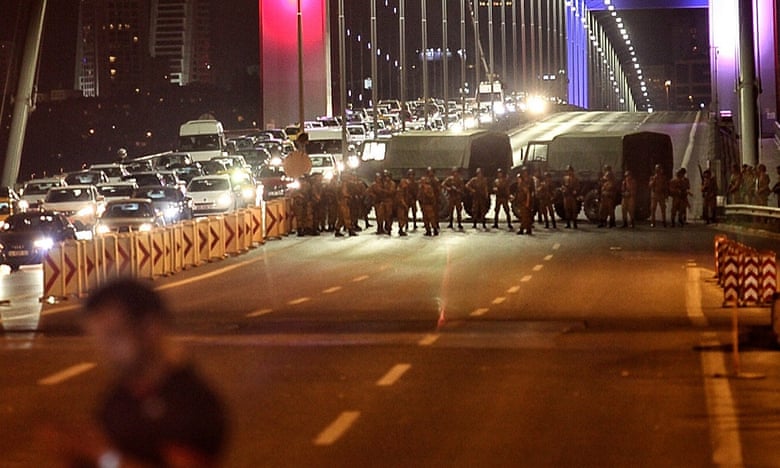 John Kerry, the secretary of state, said he had heard the reports but could not comment. "I hope there will be stability and peace and continuity within Turkey," he said while visiting Moscow.
Ned Price, spokesperson for the National Security Council at the White House, said: "The president's national security team has apprised him of the unfolding situation in Turkey. The president will continue to receive regular updates."
Turkey has the second biggest army in Nato after the US. It was a crucial ally during the cold war, although relations hit a bump in March 2003 when Turkey refused to let the US to invade Iraq from the north through Turkish territory.
Now they are military partners, albeit with significant political differences, in the fight against Islamic State. Last year Turkey agreed to let US warplanes and armed drones use the Incirlik air base, just 60 miles from the northwest Syrian border, to carry out raids against Isis. The aircraft had previously flown from Iraq or Arab allies such as Jordan.
Loss of the Turkish base would be a severe blow to the ongoing effort against Isis, especially after recent terrorist attacks within Belgium, France, Turkey and the US itself.
Turkey, which by the end of 2015 was hosting 2.5 million refugees, mostly from neighbouring Syria, has objected to US support for Kurdish forces operating in northern Syria against Isis. Washington has said it draws a clear distinction between the PKK, a foreign terrorist organisation, and the Syrian Kurds, whom it sees as one of many groups fighting Isis.
Mark Toner, deputy spokesperson for the US State Department, said last month: "Turkey is playing an important role with regard to Syria, with regard to the conflict there, both from the Assad regime as well as with Daesh [Isis]. So I don't want to underplay that. But they have, as many countries do within the coalition, sometimes different priorities, different ideas about how to go about that, and that's something we're in constant dialogue with them about and working to coordinate better."